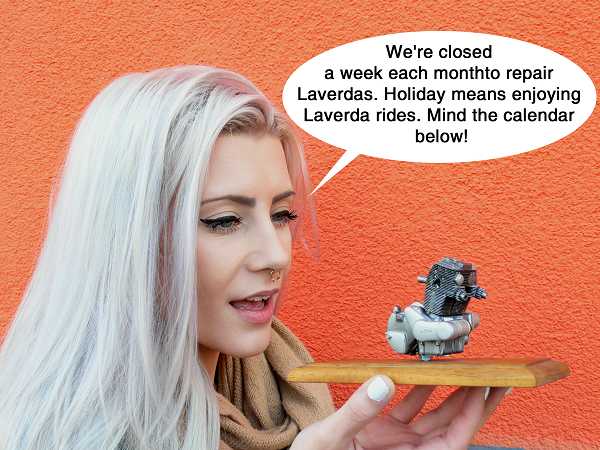 ATTENTION in the section used parts
we have recently set new parts on 18.12.2018.
There are also individual NEW parts rarities set there.
_____________________________________________________________________________
Hello dear Laverda customer
Please print and place in the garage close to your Laverda
Please note the green and blue marked dates within the calendar,
in this time there is no telephone service time and also no dispatch of spare parts.
Best way to order at these dates will be via Internet shop, but also by fax or letter.
On the days marked green, we'll be closed to concentrate on repair orders and spare parts'
production. This helps us to be always on time and reliable – just the way you know us.
On the days marked blue we take time off to enjoy a LAVERDA ride.
For the time being until the end of June 2019 we have to introduce an additional regulation!
The telephone service time takes place as usual Monday to Thursday 15-18 o'clock.
Except in the weeks marked green or blue.

Since the workshop area is fully booked with Laverda restorations and engine
revisions until 2020, we have decided not to do spare parts' shipment on a daily
base until the end of June. So we can get more Laverdas finished in the workshop.
Therefore, replacement parts will only be shipped on the days marked in red on the calendar.
Honestly, we just aren't getting any younger, too,
and we're switching gears back to work with peace and diligence.
We do what everyone probably wants for themselves!

Thank you for your understanding. Forza Laverda! Andy Wagner + Team