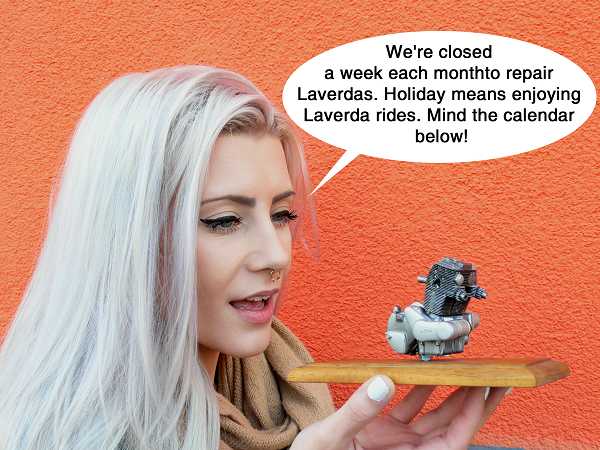 Please take note of the dates marked in Green and Blue, during this time there will be no telephone support and no shipping of spare parts.
However this time you can still place your orders by using our internet shop, fax or letter.
Better still print this calendar and pin it up in the garage next to your Laverda, so that you do not forget the following.
We are closed during the Green periods, so that we can concentrate on repair projects and spare part production.
This way we have been able to maintain our performance of being on-time and dependable, just as you would expect from us.
During the Blue periods we take time to enjoy a ride on a LAVERDA.
All orders received will be processed and shipped no later than the 2nd working day after the highlighted times shown.
To keep you informed; ss soon as your order has been shipped you will receive an email from us.
Many thanks for your understanding. Forza Laverda! Andy Wagner + Team
www.LAVERDA-PARADIES.DE 2018